Armani Luminous Silk vs. Armani Maestro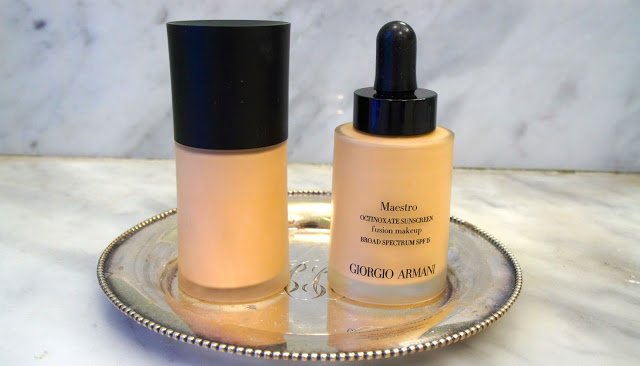 Armani makes beautiful foundations. Which one is best for you?
Armani Luminous Silk Foundation($60)
- The most famous of Armani's foundation range, it is no wonder this product makes Best of Beauty lists year after year. I personally have used this foundation for years and feel a little anxious when I don't have a bottle on hand. I love this foundation for when you really want your skin to look it's best. It has a medium coverage with a dewy finish. I tend to use it more in the evening than the day when I want a little more coverage. No wonder it is a staple of makeup artists and is continually used on the red carpet, it photographs beautifully. Skin is radiant and luminous, but not shiny. I am currently using shade 5, but I usually have a shade for winter and summer and mix them to suit skin at the time. I like to use a foundation brush to apply for a flawless finish.
Armani Maestro Fusion Makeup($62)
This is Armani's latest addition to their foundation range and quite a unique product. The best way I can describe it is as a pigmented oil with sheer, but with just enough coverage. It's dropper-bottle top allows you to not waste any product and dispense the exact amount you need. I definitely recommend using hands to apply, because of the oil-like texture the warmth of your hands allows you to seamlessly blend it into the skin. I use this foundation during the day when you want skin to look even and polished, but still have your own skin shining through.
Which one is best for you?
I think you need to determine what kind of foundation you are looking for. If you are somebody that doesn't like to wear a lot of makeup, but still wants skin to look fresh and pretty, I would go with the Maestro. If you are looking for a foundation with a little more coverage and a flawless finish, than I would go with the Luminous.
Hint:
When you have decided which one is best for you, go to an Armani counter and ask them to make you a sample of the other one so you can try that out as well. Win-Win!