CC Holiday Gift Guide: The Timely Traveler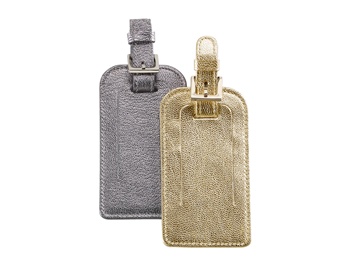 Personalized Luggage Tag($30)- For the constant traveler, having easily identifiable luggage is a must. Why not personalize a leather luggage tag? You can choose from an assortment of classic colors, bold brights or shimmery metallics.
Omorovicza Essentials Kit($150)- Lots of traveling means lots of dry recycled air. Introduce your traveler to the gorgeous Omorovicza skincare line. This perfect kit is wonderful to throw into your carry-on. Use the mist when you need a little refreshment and moisture and on over night flights, the rejuvenating night cream will have you wake up to soft supple skin.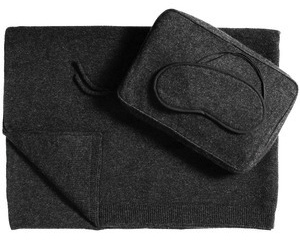 Sofia Cashmere Travel Kit($300) - An in-flight essential to keep the constant traveler warm and comfortable. You can never, ever go wrong with cashmere. Trust me.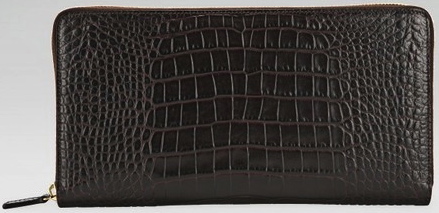 Smythson Mara travel Wallet($710)- Smythson is the ultimate in glamorous travel goods. They have many gorgeous items to choose from but this travel wallet makes the top of my splurge list. I love the all around zipper detail to keep those important travel documents securely hidden away and it includes a removable passport cover! Tres chic.
Muji Suitcase($175)I know a suitcase looks as those it could be a boring present, but believe me when your traveler gets this, they won't be disappointed. I had popped into Muji a couple of months ago when my suitcase had broken and spied these in the corner. The hard modern exterior keeps all of your items protected, the 360 degree moving wheels allow you walk or pull, but the best part? The weight! This is the lightest suitcase ever. I was standing next to a woman who was looking at one as well, my jaw must have been dropped, because she said, "Isn't this the most lightweight suitcase you have ever held?" Um yes! If you're anything like me, I want the actual suitcase to be as light as possible so I can jam in that extra pair of shoes and still be under the weight limit. They come in 3 different sizes, I'd go with the carry on size to make those quick trips easy and hassle-free. *Bonus* Inside, hide a toiletry bag filled with his or her travel-size favorite products. (Think mini hair and skincare products, fragrances, and an extra toothbrush and toothpaste.)
-