Omorovicza Skincare Black Friday Sale!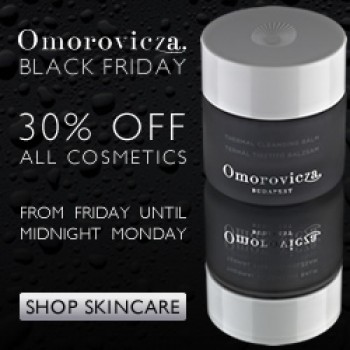 I have wanted to write about the Omorovicza skincare line for quite some time. With their big Black Friday sale happening now through Monday, I decided this was the opportune time to introduce it on my blog. So, where do I begin with Omorovicza? I first discovered the line after having an Omorovicza facial by chance after the facialist had highly recommended them. My skin had been going through a rough patch, so I was anxious to try anything that would help. All I can say is - WOW! After the facial my skin felt hydrated and glowy. A few days later, results just kept getting better, and my skin was clear and radiant. It really was one of the best facials I have ever had to date. With such big and immediate results, I was eager to learn more about the brand. Omorovicza was created by Margot and Stephen de Heindrich after they discovered the intense benefits of the Budapest Thermal Spring waters. The line is based around using these unique minerals from the waters, but it is also made without petrochemicals, synthetic fragrances and colors.The products I have tried so far are: the Essentials Kit, the Queen ofHungary Mist, and the Copper Peel.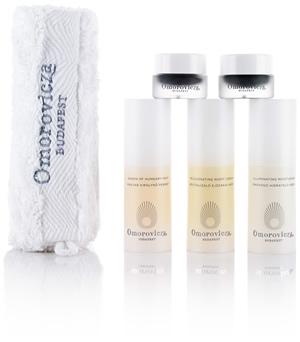 The Essentials Kit includes travel sizes of the Illuminating Moisturizer, Queen of Hungary Mist, and Rejuvenating Night Cream and the Thermal Cleansing Balm, a few samples of their other products and an ultra-soft mitt.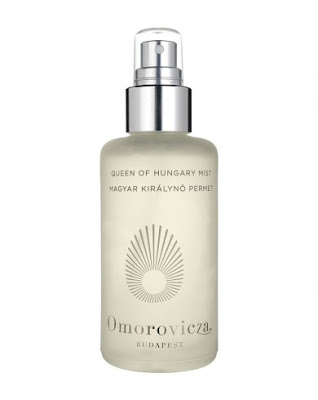 The Queen of Hungary Mist is an alcohol-free, hydrating mist. It rebalances the pH of the skin, tones, hydrates and refreshes. It is lightly scented of orange blossom and perfect for daily use, as a pick me-up throughout the day, and especially when traveling. I know a facial mist doesn't sound like much, but trust me on this one.
The Copper Peel is a 2-step skin peel. The first step is to gently rub the blue copper paste all over the face and then add the clear lactic acid activator on top. Massage it into the skin for 2 minutes and then rinse away. It is like giving yourself a facial at home, the results are that good! You are left with a baby soft and smooth complexion. It says you get 16 tubes for 8 applications, but I can get 2 applications per tube. This is a wonder product, people!
Now after all my raving, here comes the drawback - the line is quite pricey. It definitely is a high-end brand, but I have to say, they deliver in results. If you are interested in this line, now would be the time to try it out. Omorovicza is offering their Black Friday sale which includes 30 percent off everything from now until Monday. My recommendations are all I have mentioned above, but if you want to be able to experience a few different products at once, than I would go with the Essentials Kit. I promise it won't disappoint.