Let's Get Nude!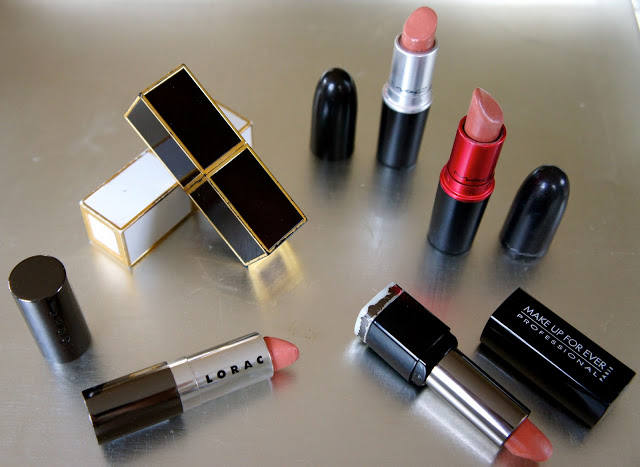 (Clockwise starting with Lorac lipstick in Nude Scene, Tom Ford Lipstick in Sable Smoke, Tom Ford lipstick in Blush Nude, Mac Lipstick in Cherish, MAC lipstick in Viva Glam II, Makeup Forever lipstick in 23)
If there is one thing that I hoard in my makeup bag, it is my collection of nude lipsticks. I am always on the lookout for new colors and formulas. I have been known to mix as many as three lipsticks to achieve the perfect shade of nude. I believe that warmer toned nudes are more universally flattering than cooler ones, so I tend to lean towards those. Nude lipsticks can have hints of brown, pink, and peach, so its important to find out which suits you best. A fabulous nude lip is sexy, flattering, and the perfect complement to a strong eye. Here are a few of my favorites.
Lorac Breakthrough Performance Lipstick in Nude Scene($22)- A milky pink warm-toned nude in a very creamy formula that's scented of vanilla.
Tom Ford Lip color in Blush Nude($48)- A true pinky pale shade of nude.
Tom Ford Lip Color in Sable Smoke($48)- Definitely one of my ultimate favorites. A unique caramel, brown color in an ultra creamy formulation. Its a sophisticated and sexy lipstick!
MAC Lipstick in Cherish($15)- A soft muted peachy-beige. A gorgeous lipstick that warms up the face.
MAC Viva Glam II Lipstick($15)- A satin formula in a browny, slightly cooler toned shade of nude. Perfect for layering under a gloss.
Makeup Forever Rouge Artist Intense in 23($19)- An opaque, very long-lasting semi-matte nude.