Beauty Lust-Haves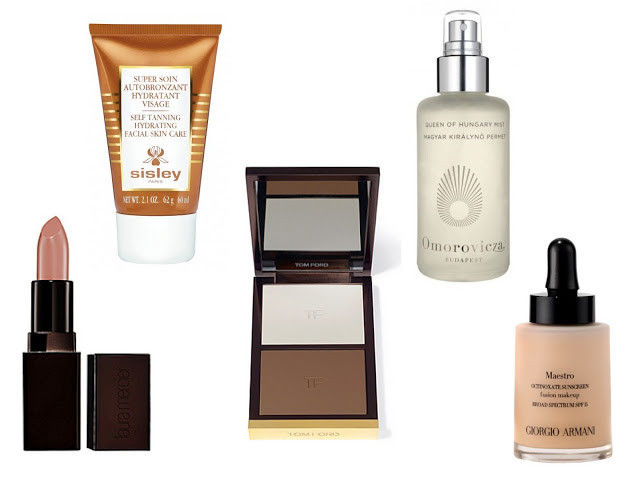 Laura Mercier Crème Smooth Lip Color in Peche- I happened upon this new line of ultra-creamy lipsticks by Laura Mercier while perusing the aisles of my local Sephora, as I so often do. I casually tested it out, not thinking much of it until I left and noticed how moisturized and plump my lips felt. One look in the mirror and I was pleasantly surprised how gorgeous the color was. Yes I admit it I have many nude lipsticks, but this one was different . Its peachy shade reminded me of something Audrey Hepburn would have worn in the 60's. It's warm and brightening shade would be complementary to many skin tones. But check out the whole range of colors if you get a chance.
Sisley Self- Tanning Hydrating Facial Skin Care- To keep the last of your summer color from fading, this luxury self-tan moisturizer is supposed to give you a gorgeous, natural glow while enhancing your complexion with active ingredients and plant extracts. Check out the rave review from one of favorite beauty bloggers,A Model Recommends, and it will be hard not to lust after.
Tom Ford Shade and Illuminate- This cream contour from Tom Ford Beauty is not only in the most beautiful packaging known to man, I love that it has a contour and highlighter in one. As we get into the colder months and skin becomes dry, it is nice to trade in our powder products for a creamy bronzer to help create that dewy glow. This has been a beauty lust-have for quite some time!
Omorvicza Queen of Hungary Facial Mist- Omorovicza is a luxury skincare line from Hungary. They have beautiful products in beautiful packaging . This skin toner was inspired by the world's first recorded perfume for the Queen of Hungary in the 14th century. It's ingredients include orange blossom, rose and sage waters, apple pectin for hydration and Hungarian thermal waters. One mist tones and refreshes the skin or use it as a pick-me-up throughout the day.
Giorgio Armani Maestro Fusion Foundation- I tried a sample of this foundation after reading about a new technology Armani Beauty had been developing for over 6 years. It uses different pigments to create an ultra thin texture to perfect and even the skin. It feels like you are spreading a serum over the skin and doesn't feel like makeup at all! I would definitely recommend using your hands to apply as it warms and melts the product into the skin. It is non-comedogenic and has SPF15.