Sunday Morning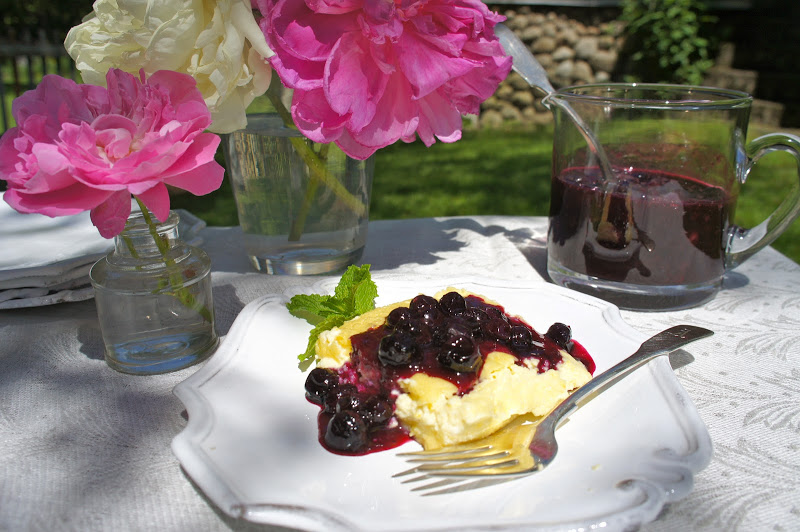 For a lazy Sunday treat, I made
Ina Garten's Baked Blintzes with Fresh Blueberry Sauce. Easy and delicious!
Here's is the recipe:
Ingredients
For the batter:
1 1/4 cups milk
2 tablespoons sour cream
4 tablespoons (1/2 stick) unsalted butter, melted
1 teaspoon pure vanilla extract
4 extra-large eggs
1 1/3 cups all-purpose flour
2 tablespoons sugar
1 tablespoon baking powder
For the filling:
3 cups (24 ounces) ricotta cheese
8 ounces mascarpone cheese
2 extra-large eggs
1/3 cup sugar
1 tablespoon grated lemon zest (2 lemons)
2 tablespoons freshly squeezed lemon juice
1/2 teaspoon pure vanilla extract
1 teaspoon kosher salt
Fresh Blueberry Sauce (recipe follows)
Directions
Preheat the oven to 350 degrees. Butter a 9 by 13-inch cake pan or baking dish.
For the batter, place all the ingredients in the bowl of a food processor fitted with the steel blade and blend until smooth. (You can also use a blender.) Pour half the batter (about 1 3/4 cups) into the prepared dish and bake for 10 minutes, until set.
Meanwhile, for the filling, whisk together the ricotta, mascarpone, eggs, and sugar in a large bowl. Add the lemon zest, lemon juice, vanilla, and salt and mix until thoroughly combined. Spread the cheese filling over the baked pancake. Carefully spoon the remaining pancake batter to cover the cheese.
Return the pan to the oven and continue baking for 35 to 40 minutes, until the top is lightly golden and the filling is almost set. Remove from the oven and allow to stand 10 to 15 minutes. Cut the blintzes in squares and serve warm with the fresh blueberry sauce.
Fresh Blueberry Sauce:
3/4 cup freshly squeezed orange juice (3 oranges)
2/3 cup sugar
1 tablespoon cornstarch
4 half-pints fresh blueberries
1 teaspoon grated lemon zest
1 tablespoon freshly squeezed lemon juice
Combine the orange juice, sugar, and cornstarch in a medium saucepan and bring to a boil, stirring occasionally. When the mixture is translucent and thickened, stir in the blueberries and simmer for 4 to 5 minutes, just until a few berries have burst but most are still whole. Stir in the lemon zest and lemon juice and cool. Yield: Makes 2 cups.