La Caravelle Champagne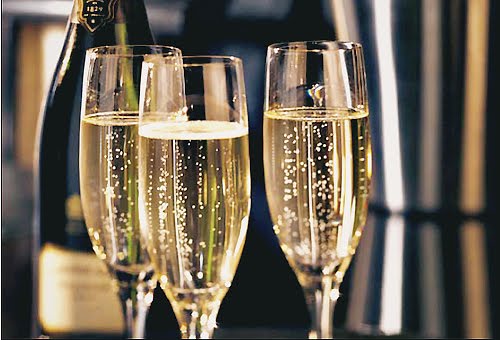 Recently while visiting New york City, I had the pleasure of dining at The Lion, former Waverly Inn chef John DeLucie's newest place. It is my idea of a perfect New York restaurant - cozy and dimly lit with sophisticated yet comforting food. Our dinner consisted of:
Kumamoto oysters
Burrata and Heirloom Tomato Salad
Truffle Gnocchi
Strawberry Custard Doughnuts with Vanilla Bean & White Chocolate Dipping Sauce
Need I say more? Alas, I do because the standout of the evening was the champagne I ordered! It was smooth yet crisp, and tasted like pure perfection. The sommelier, a bubbly young woman dressed as as if it was the 1960's complete with a blunt bang hairstyle and tortoise shell eyeglasses, the sort of quirky gal who would of course be working in one of the Village's hippest and hottest restaurants, was excited to tell me that label was called La Caravelle. I wanted to know more and found out the story behind this boutique champagne.
The legendary La Caravelle in Manhattan was open from 1960 until 2004. It was an institution for the New York elite and a favorite of the Kennedy clan. Chef Fessaguet would even pack Kennedy family members the restaurant's signature Chicken with Champagne Sauce for their frequent plane trips. La Caravelle closed after 44 years, but the name lives on with the introduction of their champagne. There are three kinds: Champagne Cuvee Nina, Champagne Rose, and the glass that I had, Champagne Blanc de Blancs. From their website:
"Made with exclusive blend of the best chardonnay crus harvested primarily from the Cote des Blancs and aged for three years, this complex wine has an elegant bouquet perfumed with white flowers and a refreshing, lively flavor with notes of citrus and rhubarb."
Bon Appetit Magazine named it one of its Top 10 Blanc de Blancs Champagnes saying "this bubbly combines lemon, apple, mineral and a touch of honey with its lithe frame. It's all beautifully put together with a crisp finish." It was awarded 91 points by the Wine Spectator.
The next day, I couldn't get the taste of that champagne out of my mind. I ventured into a beautiful wine shop, Body and Soul, on the Upper East Side, and bought a bottle. It was $40.00, which I thought was very reasonable. A small price to pay for heaven in a bottle, don't you think?
http://lacaravelle.com/